Whilst Arbitrage can be a fast way to earn money during quieter periods, your accounts probably won't last very long if you do lots of these. With Arbs, you are beating the bookmaker every single time & they hate it when punters beat them. It's a one way ticket to an Account Ban.
Guaranteed to make easy money… guaranteed to lose accounts!
I'm sure we have all been in this position, there aren't many offer that take your fancy and you can see the potential for an easy profit boost.
It's insanely quick to make good profit doing this, but your bookmaker accounts will not last very long.
Arbitrage is a bit like a price boost, apart from instead of the traders willingly increasing the odds of an event, you have outsmarted the traders, beating them to a top price. This means they will be unable to make any money from your bet, which is what eventually gets you banned!
There are times where I arb, I do this with bookmakers that rarely offer promotions or have already excluded me from promotions. Great for Matched betting without free bets!
Disclaimer, if you arb, you are guaranteeing that your accounts will be promo banned or even closed.
Arbitrage isn't for new members, unless you are only matched betting for a quick sum of money. Sure, you can earn around £1500-£2000 in one lump if you do the sign ups and then arb your accounts, but you need to ask yourself Is Matched Betting worth more to you long term?
So, What is Arbitrage?
Simply, arbitrage is finding a match which has higher back odds than lay odds. Below is an example.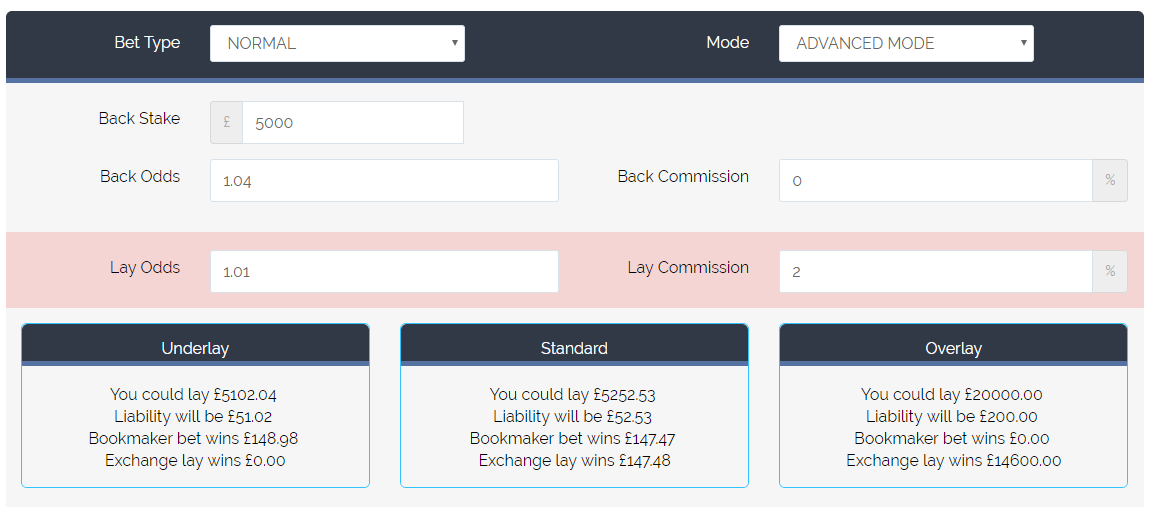 This is from a bet I put on myself. Germany 1.04 odds, 1.01 to lay, I put £5000 down for just under £150 guaranteed profit!
That's the thing with arbitrage, you go big to earn your maximum profit possible, then lose the account. This was Using BetBull… they don't really do promotions so to earn £150 for closing the account was a logistical move! They haven't actually banned me yet.
Arbitrage – The easy way!
Arbitrage betting is so simple, if you can back and lay, you can arb.
Our Oddsmatcher will find you arb bets in seconds.
Our Calculators will tell you the figures.
Below is our oddsmatcher, take a look at the rating column.
The Top return shows a rating of 111.76, this means that you will make 11.76% profit on your bet. (£100 bet is £11.76 Profit!)
When arbing, you will most likely be betting large figures (4 or 5 figures sometimes) so it's easy to see how you can profit!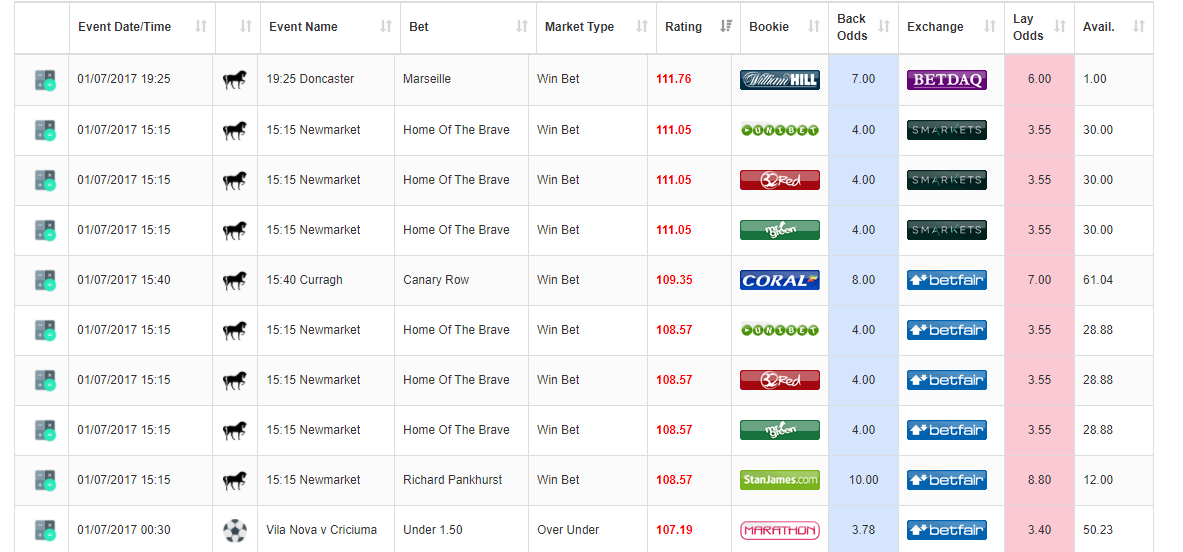 Arbitrage Disadvantages
There are a few issues which can crop up with the 'lesser' bookmakers, as they are desperate to hold onto their profit margins.
Bookmakers may say the odds displayed were incorrect, settling at lower odds.
Bookmakers may void the bets.
I have never had any of the above issues, as when the 'bet is accepted' that's the bookmaker agreeing to pay you out £x.xx if the bet wins.