Underlaying a bet means to lay LESS than what is advised by the calculator.
It is a very advanced tactic, almost gambling.
Below is an example of the Calculator (Set to Advanced Mode, so you can see Underlay and Overlay).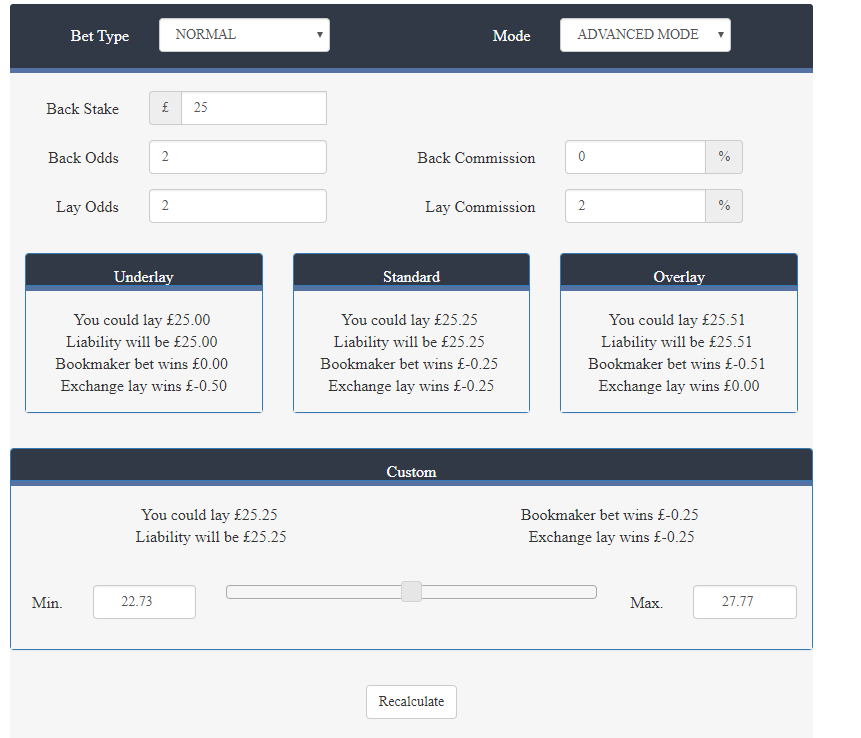 I have created a false scenario, £25 Stake, 2.0/2.0 Back & Lay odds.
Note, how there are 3 boxes on advanced mode, the centre one, standard is the Ideal lay (Balanced for minimal losses either way). The losses here are 25p regardless of Bookie or Exchange winning.
Underlay
With this method, you stand to lose more if the money goes into the exchange.
Underlaying means you are confident the bet should win, so underlay to try and Minimize all Qualifying losses. (See the Bookmaker bet wins £0.00, which means it won't have cost you a penny to place the bet… As Long as it wins!
---
Overlay
Completely opposite to Underlay, with this method you lose money if the bet wins with the bookmaker.
Overlaying means you are confident the bookmaker bet should lose, so overlay to minimize the qualifying losses.
You stand to lose more if the bet does win into the bookmaker.
---
Verdict
Personally, for the day to day general betting, I stick to Normal on the calculator. Overall, there is less risk, plus your emotions don't get in the way.
What I do advise, is for you to UNDERLAY your bets where there is a lot of 'Rollover' or 'Wagering' to complete.
This means, that if the bets keep winning in the bookmaker, it hasn't cost you a thing.
When the bet loses, sure it costs you a little more in Qualifying Losses, but the offer is then completed.