There is no value in placing an accumulator bet, they are not profitable at all.
What is an Accumulator bet?
An accumulator bet is a bet which is made up of 4+ individual selections, each selection being classed as a 'leg'. Typically, if the bet has three legs it's called a treble, or if two legs they are known as a double.
A 'multiple bet' is the term for a bet that contains two or more legs.
Here is the important bit, regardless of the number of legs you put in your accumulator, they all must win.
If your accumulator has 9 out of 10 winners, but the last one loses, the whole bet loses!
Accumulators are so popular because of the way the odds multiply, essentially you can have 5-6 selections and be on to win thousands of pounds! It's not as easy as it sounds, I won two out of 105 bets last season, trialling £1 accas.
How do Bookmakers make so much profit?
Being a bookmaker is profitable work! They have a mathematical edge, so when compiling odds there is no way they can lose. I will show you below exactly how.

Above you can see the following odds. England – 1.61, Draw – 4.1, Poland 5.25
---
How can you calculate implied probability?
To calculate the implied probability, we need to divide each of the odds quoted above. (100/odds=Probability)
England to Win – 62.111%
Draw – 24.39%
19.04%
The problem? When added together, the above comes to 105.541%! This means the boomakers odds aren't correctly representing the probability.
It is very difficult to calculate true probability, if bookmakers were to offer fair odds, they wouldn't be profitable.
The overround is the inbuilt profit in a betting market. In a fair market all odds would add up to 100%. If the book is over 100% then layers make a profit, below 100% and backers make a profit.
---
What does the 105.541% Mean?
If you look at any market now and calculate it like I have advised, I can guarantee the implied probability will be over 100%. For the better bookmakers, it tends to be a lower margin, this is because they have more customers.
In the above example, i quoted 105.541%. This shows a 5.541% surplus, in the bookmakers favour.
This percentage is what they profit from on this market. For every £100 paid out to punters as a winning bet, they are receiving £105.82, meaning £5.82 is pure profit! It's worth mentioning, most markets have hundreds of thousands of pounds gambled, meaning their total profit is going to be a lot higher than £5.82 per market!
The bookmaker is set out in a way which it cannot lose.
Accumulators – The Real Problem
Now, We know bookmakers can make a guaranteed profit based on their odds compiling system, but it gets worse.
The real problem lies with Accumulators overround. The example I showed you above was for a single bet, the profit on that one being £5.82 alone!
With accumulators, the odds can increase exponentially, multiplying the odds of each selection. However, the Overround also increases with this, meaning the bookmaker increases their profit margin.
We will add a selection now, to our previous selection England.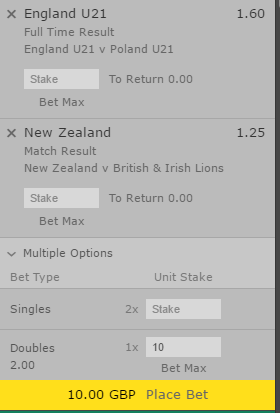 The above looks a solid bet, meaning that we can place £10 bet and have £20 returned, £20 Profit.
calculating the overround in each of the above is around 5% each.
Another Problem – Punters believe that because the odds have multiplied, they now have the advantage, because instead of placing two bets:
1) £10 on England at 1.6 – £6 Profit & 2) £10 on Australia at 1.25 – £1.25 profit
TOTAL PROFIT – £7.25
Now, the £10 Stake can earn £10 Profit!
WARNING!
The back odds of 1.6 & 1.25 are multiplied to create odds of 2.0… but also the OVERROUND GETS MULTIPLIED
We end up losing £1.10 to the bookmakers when we place a £10 double, compared to £1.05 on two single bets of £10.
It may not seem to bad as we have only used a double as an example. Multiply this up to a Six Fold Accumulator bet, each leg being around 5%, now the bookmaker has over 30% edge!
FOR EVERY £100 STAKED, THEY HAVE MADE OVER £30!
How can the average punter fight back?
Punters are always going to lose to the bookmakers. If you are betting recreationally, a few quid while you are in the pub, then I don't see the reason why you need to fight back! I have a lot of friends who understand they won't win long term, but it's the dream of doing so!
There are a few ways you can make money from accumulators, taking advantage of the fact that bookmakers want you to place accumulators.
Most of the bookmakers actively run promotions where you will be given a refund if a leg in your acca lets you down. This is known as Accumulator Insurance Acca Insurance. Matched Bettors, eat your heart out!
We can take advantage of these promotions, guaranteeing a Risk Free Profit. Using a special spreadsheet we can lock in profit on these.
Alternatively, take a look at Accumulator Generator, here they give you the accumulator to place & let you know exactly how much to lay. No admin, maximum profitability!
Thanks to Matched Betting, Accumulators CAN be profitable!